The December 2022 Newsletter has a quick summary of improvements made to Grist in the last month.
New Date Filter with Calendar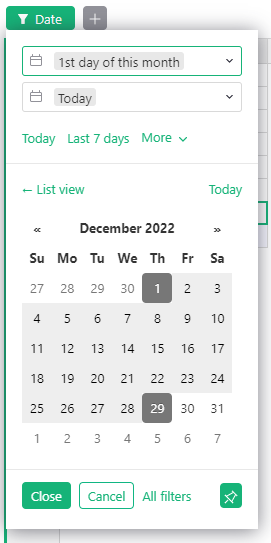 Filtering date and datetime columns just got easier. You can now select a date range using a calendar picker.
The bounds of the range may also be relative — for example, from 1st day of this month to Today . The filter will update with each passing day.
Snapshots in Grist Core
Previously, snapshots were available on hosted Grist and the self-managed enterprise plan, and relied on commercial cloud storage services. Now, snapshot support is also available on Grist Core — the open source version of Grist — and can work with open source self-hosted storage options such as MinIO.

Learn how to set up snapshots.
And more…
Quick Delete for Invalid Table/Column Access Rules. If there are access rules for a table or column that has been deleted, there is now a convenient button to delete the rules that apply to the deleted column or table.
Improved UI for Memo Writing in Access Rules
Tips. To help you and your teammates get the most out of Grist, there are now tips that appear as you explore Grist's features.
Open Source Contributions
Thank you to @jperon (@jperon on Github) who created and shared a pivot table custom widget. Find it in our custom widget Github repo, grist-widget.
Webinar: Access Rules for Teams
Learn how to write access rules that manage team members' permissions on a document.
Thursday January 19th at 3:00pm US Eastern Time.