I am following tutorial to generate a hyperlink. I am doing following steps
Run Grist as follows:
docker run --env GRIST_DOMAIN=localhost --env DEBUG=1 -p 8484:8484 -v $PWD/persist:/persist -it gristlabs/grist
Follow tutorial Link Keys Guide - Grist Help Center
I am facing two issues here
When the link is generated, it is generated with 0.0.0.0 hostname which obviously does not work. Here is an example URL → http://0.0.0.0:8484/o/docs/1aFpFywXofDk/Private-Tutor?UUID_=a0d9ce23-1c1e-45a2-9dd8-01981f2adb1c
I am even passing GRIST_DOMAIN = localhost but still links are not correct.
I tried passing --env GRIST_HOST=localhost but in that case I am not able to load homepage itself.
I tried on getgrist and they are correctly generated there. Am I missing some env variable?
The filtering is not working. I made a copy of the solution doc from tutorial. When I click on the link, I see the UUID is in URL but I can see data of all families. A screenshot is attached. What am I doing wrong?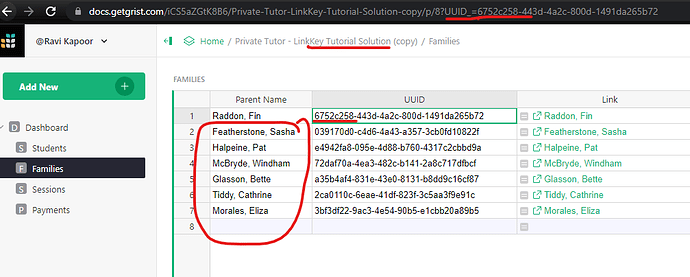 Thanks