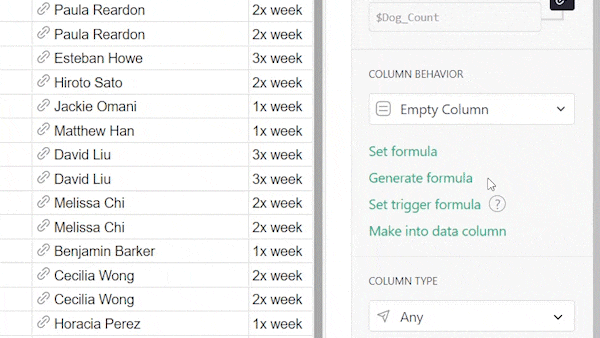 Gif of AI formula writing.
The November 2022 Newsletter has a quick summary of improvements made to Grist in the last month.
Grist Experiment: Writing Python Formulas with AI
We recently experimented with OpenAI to see how well AI could write Python formulas in Grist. The experiment yielded promising results which we're excited to share!
Want to Help Grist's Development?
We're always working on big new features and would love early feedback from users before features are added to Grist. If you would like to test early features and provide feedback, email success@getgrist.com, or send @anais-grist a DM through the forum.
Sort and Filter Improvements
We've improved the experience of sorting and filtering tables and other widgets, making it easier to use. Save and revert settings are now clearer at a glance, and the filter buttons are more flexible.
Previously, to create filter buttons above a widget, you could either make all or none of your filters into buttons. Now, you can pin filter buttons individually.
Webinar: Modifying Templates
December's webinar will focus on how to look under the hood of a template from our template gallery, and modify it to meet your needs.
Thursday December 15th at 3:00pm US Eastern Time.