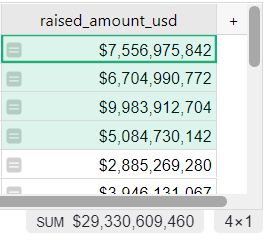 The October 2022 Newsletter has a quick summary of improvements made to Grist in the last month.
What's New
Quick Sum. Need to quickly sum or count values? Select a range, and a handy total and count will appear in the footer of the widget. Finally!
Duplicate Table. You can now quickly duplicate a table! Go to the raw data page and open the table's menu.
New Table and Column API Methods. You may now add, modify and list tables and columns in a document. See our REST API reference to learn more
Multi-column Formatting. You may now select several adjacent columns and edit their column type and formatting simultaneously, saving you time.
New Add + Remove Rows Shortcut. Shortcuts to remove or insert a record have changed, to avoid interfering with page zoom.


New PHONE_FORMAT() Function. Formatting phone numbers just got easier with a new helpful function. Learn more about PHONE_FORMAT().
Webinar: Building Team Workflows - Tuesday, November 22nd at 3:00pm ET
In November we're continuing our Grist for Teams series. November's webinar will focus on how to build productive workflows for teams, while making use of features that make Grist easy to use by anyone on your team.