Hello, I am sending this message from mobile. I use mobile more.
Tye search box on mobile, for me, is too small.
I find it hard to view the entire text of what I am searching for. Please, try to enlarge the search box for the mobile version
Secondly, I don't know how to create formulas.
I need help here. Please.
I have 2 tables one for Contacts and One for Interactions.
Interactions table contains the following columns ( Name - linked to Name column in Contacts table, Date of Interactions, Type of Interactions - be it email, call, to do etc , and Notes about every Interactions)
Each Interactions is tied to a particular person ij Contacts table.
Please,I want a formula, or script or anything, such that each time an Interaction is logged in Interactions table linking to a particular person in Contacts table, a column called 'Last Contacted' in Contacts Table is automatically filled with the last Interactions date of that particular person.
So a person can have about 3 Interactions in Interactions table that took place in June 13, July, 12 and April 10.
I want July 12 , to be automatically filled in the Last Contacted column of Contacts table.
Is that impossible?
I will attach pictures below for easier understanding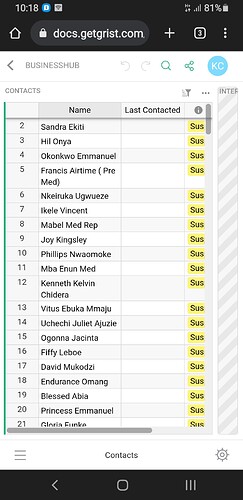 I will send 2nd picture also