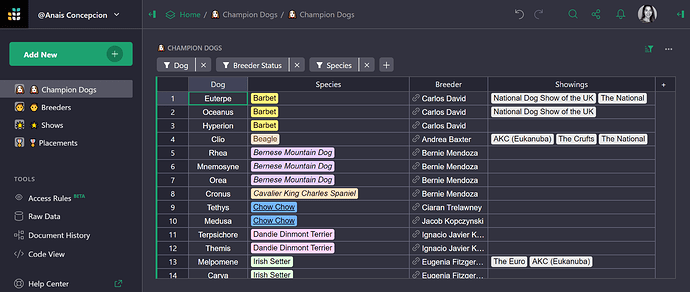 The September 2022 Newsletter has a quick summary of improvements made to Grist in the last month.
Dark Mode
Grist now comes in dark mode.

To work in dark mode, click on your user icon > profile settings > select "Dark" under the appearance setting.
Open Source Contributions
Here are two recent highlights from a team that's not only using Grist, but is making it better for everyone. Thank you, @Louis_Delbosc
Improved User Management with Autocomplete - When adding users to a document, the list will now autocomplete with emails of team members. This is currently available on grist-core and will land in hosted Grist by Monday, October 3rd.
Export Table as XLSX - It is now possible to export a table as an XLSX from the widget menu. Learn more about exporting tables v. documents.
Webinar: Team Sites - Thursday, October 20th at 3:00pm ET
Next month we're kicking off a series focused on Grist for Teams . This series of four videos will cover everything you need to know about team sites, workspaces, collaboration, and access rules.
In October, it's back to team basics: team sites, workspaces, sharing, and more.