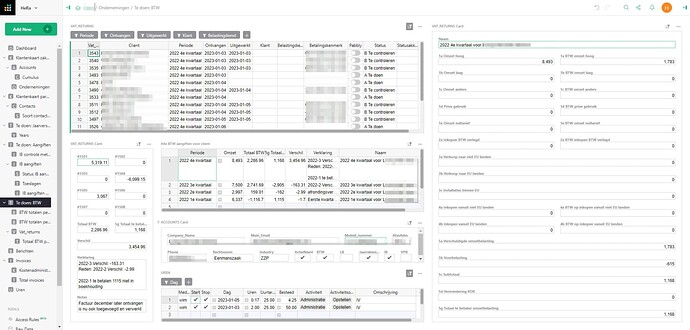 It's the time of the year that we have to fill in the VAT assesments for our customers. Attached my survey where I can see which filled assesment ("date uitgewerkt") I can send.
VAT-RETURNS shows all clients who have delivered their files (when received / "ontvangen" and when done by us / "uitgewerkt").
The VAT-RETURNS card (right) show me what will be send to the Tax authorities.
The VAT-RETURNS card (left) show me what has been accounted for on the balance sheet "Totaal BTW", so I can see the difference "Verschil".
In the middle at the top "Alle BTW aangiften voor client" show me all VAT assesments for this client with all the differences, so I can see if the difference has been changed with other assesments. A reason for that will be noted "Verklaring".
Middle middle "Accounts card" show me details of the customers details.
Below that shows me the hours worked "Uren" for the last 7 days on this client, by clicking on start and stop my hours will be noted aswell.