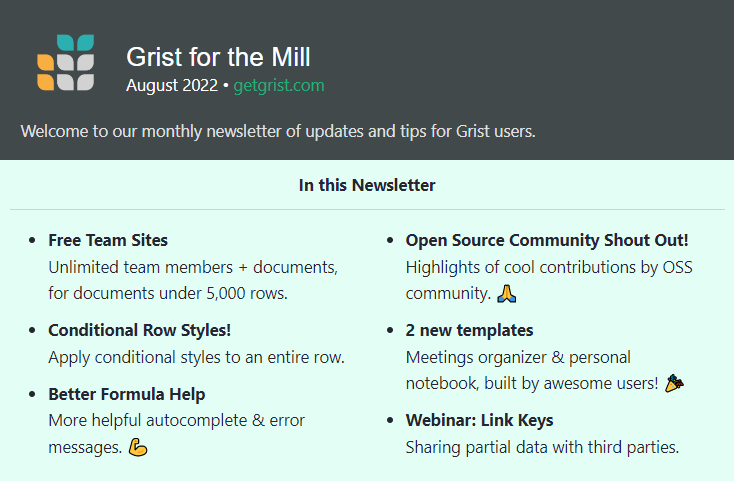 Free Team Sites
Grist is most powerful when used collaboratively. That's why we're now offering free team sites. Learn more.
What's New
Conditional Row Styles - You can now apply conditional styles to an entire row.
More Helpful Formula Errors + Autocomplete - Writing and troubleshooting formulas just got a little bit easier with more helpful autocomplete suggestions and error messages that include human-friendly explanations and suggestions to fix errors.

Helpful error messages made possible by the friendly traceback open source project. So cool!

Open Raw Data from Widget Menu - In the widget menu, click on "Show raw data". This is particularly handy for charts and custom widgets.
Left Pane Now Auto Expands - The left-side page menu now auto-expands on hover.
Hide Multiple Columns - You may now select multiple columns, right click to open the column menu, and hide all selected columns with a click.
Two new templates built and shared by users!
Community & Open Source Contributions
Quickly Rename Pages - To rename a page name, all you need to do now is click. Thank you, @Louis_Delbosc !
Custom Widgets: Add Column Description in Creator Panel - For custom widget devs: when specifying what columns your widget needs access to, you can now include a description to help guide your widget users, as shown here. Thank you, @Yohan_Boniface !
Open Source + Cool Dev Highlights
Learning Grist
Webinar: Sharing Partial Data with Link Keys
In September we'll explain how to use one of Grist's coolest and least explored features: link keys. Learn how to use Grist's link keys to share partial data, such as a single row, with third parties.
Thursday September 22nd at 3:00pm US Eastern Time.